Christian Book Club
Recommended Reading
'PERHAPS TODAY - 90 DAY DEVOTIONAL!'
By Tim LaHaye and Jerry Jenkins

Have you ever taken a moment and given serious thought about the fact that 'God is coming back?' Any day, hour, minute, or second, He could crack the sky?
'Perhaps Today'
was written by Tim LaHaye (the prominent authors of the Left Behind series) and Jerry Jenkins. These men have penned one of the best series known to Christian literature. The devotional is about living every day in the light of Christ's return. The first day talks on how Jesus promised to take us to His Father's house. No matter what trials and tribulations we face, we will one day have a new address! It's exciting just to think of what our mansion will look like! Day 2 is about have Dual Citizenship. We have an earthly and heavenly citizenship. But we look forward to going back to our homeland. On each day of the devotional, it includes a scripture reference for reading and a prayer asking for God's guidance. There are devotions on being watchful, not losing heart, wht the signs are and are not! This devotional is one that will have you doing a self-check. All of us want to be found doing the work of the Lord. If we live everyday as if He will appear in the next second, we'l be ready when He comes to take us home. Daily devotions is an important part of having your time with God. 'Perhaps Today' is a devotional with a punch! Prepared to go home?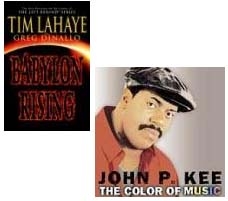 Top Christian Music
Gospel & Contemporary
Featured Music:
'THE COLOR OF MUSIC'
By Pastor John P. Kee

Pastor John P. Kee continues to bless us with his music. Up for review is his latest solo project. It's titled 'The Color Of Music.' I have enjoyed this from the first cut to the very last. The message is pure gospel and the music is slamming! Now I could talk about all 17 tracks, but that would take forever! So we'll start out with the track 2 called 'In Your Name.' Everything we do is in the name of Christ, our walk, talk and lifestyle. We can do all things through Christ who strengthens us. This song reminds us who gets all the credit for all we able to accomplish, it's in His name. Track 3 is called 'Dancin' and this song is guaranteed to have you doing just that! "Pick your right foot up/Put your left down/C'mon give him praise/Like your blessin' been found." With a beat and music accompaniment that can stand toe-to-toe with anything on the charts today! There's no way you can listen to this song and 'not' get up and get your praise on! I can't tell you how many times I've hit the replay button on this track; it's just so awesome to listen to! There's a beautiful ballad dedicated to his newest daughter recently born, her name is 'Sakiya.' This song shows just a sample of John P. Kee's unique talent and ability for modulation and cord progression with his voice and his music. Fascinating! Plus there's a jammin' Jamaican cut called 'U-Turn,' old school quartet titled 'Harvest', and the church choir jam called 'I Can't Live Without U.' This CD definitely has something for everyone. The title cut 'The Color Of Music' talks about how wonderfully appealing and versatile music truly is. Music has no color limitations and recognizes no color boundaries, but it's fashioned for any and everyone in all walks of life. Thank you Pastor John P. Kee for giving us 'The Color of Music.'